Seven tips to make corporate training a success
Corporate training offers tremendous benefits and value to your company. Done correctly, it can help your team perform more efficiently, increasing production and revenue while lowering costs and waste.
But developing robust corporate training isn't easy. One of the most common obstacles is creating programs that don't support business goals. Another huge problem is embarking on the training journey without determining its true purpose. Although employee learning can be challenging, it's still an indispensable part of your organization. To help you set up high-quality programs, we've prepared a bunch of simple yet highly effective tips.
How can you improve your learning strategies?
When optimizing your learning activities, it's best to start from scratch. Here's what you should do:
Conduct an assessment
Before developing any learning materials, you need to identify your training goals. They will help you devise a personalized approach better suited to your employees' needs. To perform a thorough assessment, focus on the following areas:
Identifying clear business goals that the learning supports.
Determining bottlenecks and how to resolve them.
Establishing the assignments your team needs to complete to achieve various objectives.
Figuring out what training activities will help your employees perform those assignments.
Discovering the learning characteristics that can make your training more efficient.
Analyzing learning programs offered by the competition and deciding if some parts can be applied in your environment.
Design training programs for adults
We've already mentioned this point, but it's worth covering in greater detail due to its immense importance. Namely, your workers are adults, and they share certain attributes that can help you devise better training strategies. If your learning methods recognize and respect the following learning principles, you can expect better results:
Offer self-directed learning.
Accommodate learners who come to training sessions with some existing experience, knowledge, and opinions.
Provide goal-oriented, relevant, and task-oriented learning.
Ensure enough value in your courses.
Respect your learners.
These principles hold for any company. If ignored, your team members won't be very eager to pick up new skills, resulting in wasted resources.
Set organizational objectives
Once you've assessed your training needs, you'll gain insight into your corporate training strategy gaps and skillsets. You should analyze, prioritize, and turn these gaps into your enterprise's training objectives. The final goal is to help bridge the gap between ongoing and desired results by developing a comprehensive training course.
At the employee level, your learning should correspond to the areas that need improving. The easiest way to identify them is through the 360-degree feedback method. It's a popular tool that accurately assesses individual performance within your organization by considering several key perspectives. It consists of questionnaires describing your employee's performance using scales and additional comments. The approach offers well-rounded feedback from coworkers, reporting staff, and peers to give you a clear picture of the areas your training should address.
Design and develop training materials
While designing your training materials, bear in mind that they should match the learning needs and gaps determined in previous stages. Additionally, don't forget that different people learn in different ways. Some prefer on-the-job training rather than classroom environments. Therefore, you may want to consider incorporating a mixture of e-learning modules, workshops, and video-based training.
Your modules should also deal with role-specific, specialist, and transferable soft skills. You could also offer collaborative training through internet hubs and forums.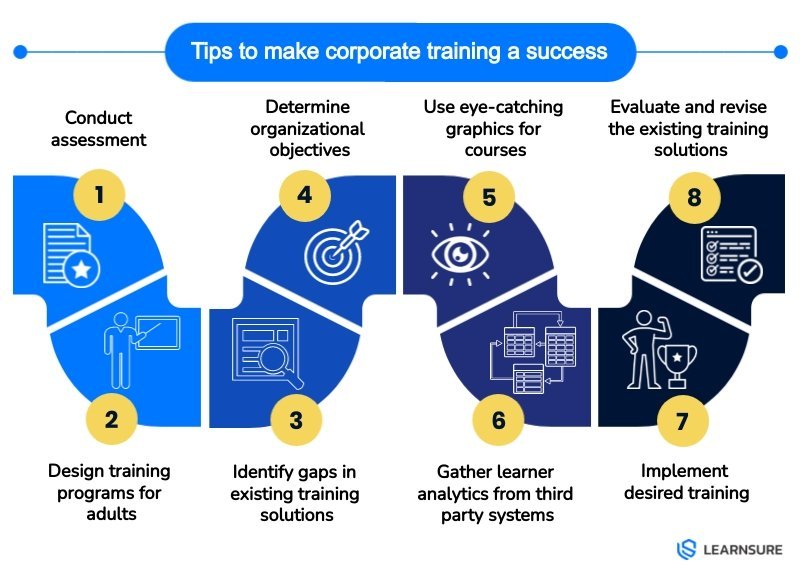 Here are a few more tips on how to design your learning materials:
Focus on employees' learning needs and not the easiest approach to training.
Offer ample practice and hands-on simulation since people learn by doing.
Whenever possible, hand over the reins to your trainees to empower them.
Design your courses with plenty of room for feedback.
Break up your materials into smaller microlearning chunks to make them easier to absorb and understand.
After designing your training materials, it's time to develop them. There are numerous available tools for this phase:
Hands-on and role-playing elements.
PowerPoint projections and handouts for your employees.
Interactive presentations.
Posters, transparencies, flip-charts, and computer-generated graphics to present visual materials.
E-learning authoring programs for developing computer-based modules.
Try to incorporate multiple tools to make the whole experience more engaging. Also, don't be afraid to use cutting-edge programs if you have tech-savvy employees on your team.
Rely on third-party training bodies
You'll be able to create some of your learning and development programs on your own. However, you might have to employ third-party training bodies to fill certain gaps, which can help you accomplish your learning goals more easily. For each route, make sure to conduct thorough testing to see how external sources fare. In addition, collect feedback from trainees to determine what worked well and what should be improved.
Implement the training
Training implementation can take various forms, such as classroom instructions, focus groups, small group assignments, case studies, and e-learning modules. Whatever you opt for, don't forget to notify your employees about the learning. This will give them enough time to work the sessions into their schedule and complete pre-training preparation.
You should also integrate with an Learnsure LMS to implement your training initiatives. It's a learning platform that puts trainees rather than the administrator in control of the training. It employs machine learning according to the participants' requirements and offers numerous recommendations based on previous sessions. Consequently, you don't have to waste time suggesting modules.
Another great thing about LXPs is their intuitive interface. They greet each participant and provide the opportunity to browse lessons, videos, or any other content. Your employees can even set up their own playlists comprising external and internal customized materials.
Due to such a personalized approach, an LXP can work wonders for your employees' skill development.
Evaluating and revising corporate training
You should continuously monitor your training programs to figure out if they're yielding results and meeting objectives. Obtain feedback from all team members to assess the program's efficacy and skill acquisition. Coupled with employee performance reviews, this information allows your organization to discover and tackle any weaknesses. As a result, you can tweak the strategy to make it more fruitful.
Take your training to the next level
Creating efficient employee training programs isn't easy, but there are many ways to simplify the process. One is to integrate with Learnsure, a fully functional, mobile-friendly LMS. Relying on modern learning approaches, your workers can quickly acquire new skills and help your business thrive. Book your demo and experience top-class training solutions first-hand.