Developing a Content Transformation Strategy
Digital transformation is a key as we head deeper into the 21st century. According to global market intelligence firm IDC, companies that have undergone a digital transformation will contribute more than 50% to the global domestic product by 2023. This accounts for approximately $53 trillion.
Naturally, this has led to many organizations considering how they can undertake digital transformation themselves. In fact, digital solutions provider PTC statistics suggest that up to 70% of organisations have at least begun to create a transformation strategy.
This push towards transformation applies to your content as much as it applies to any other aspect of your business.
Through content digitization, you can transform your content for the digital age. In doing so, you improve organizational efficiency, make useful content more readily available to your consumers, and open up the ability to create interactive learning and digital training solutions. 
Here, we examine what content transformation is before digging into some of the key factors to consider when developing your transformation strategy.
What Is Content Transformation?
Also referred to as content digitization, content transformation is the process of making your current content more accessible, reusable, editable, and versatile. It involves taking content that is locked in legacy formats, such as paper-based content or content stored on outdated tech, and converting it so it can become a part of a more dynamic and user-friendly library of content.
Content transformation is crucial because it solves a key scaling problem in the digital world. Current estimates state that the world produces approximately 7.5 sextillion gigabytes of data every single day. Much of this data is generated and used by organizations to provide services to their consumers and employees. Add to this all of the legacy information and data that your company currently has and it becomes clear that efficiency when scaling is a challenge. In some cases, growing businesses that have yet to utilize content digitization risk burying themselves under the weight of their growth.
Bringing things down to a more individual business level, most companies face this issue of content scaling in one way or another. For example, industries that provide finance or medical training must create learning systems that are capable of evolving with changing markets and consumer demands. Content digitization allows for all relevant content to be stored centrally and used in the creation of digital learning environments that would not be possible with physical content. It's for this reason that we see so many organizations making the move towards producing learning management systems (LMS) and learning experience platforms (LXP). 
So, content transformation enables the creation of e-learning platforms, improves organizational efficiency, and enables your business to use the massive amounts of content it maintains and generates more effectively. However, you must have a thorough content strategy when undergoing the transformation process. The following are the key factors to consider when creating your content transformation strategy.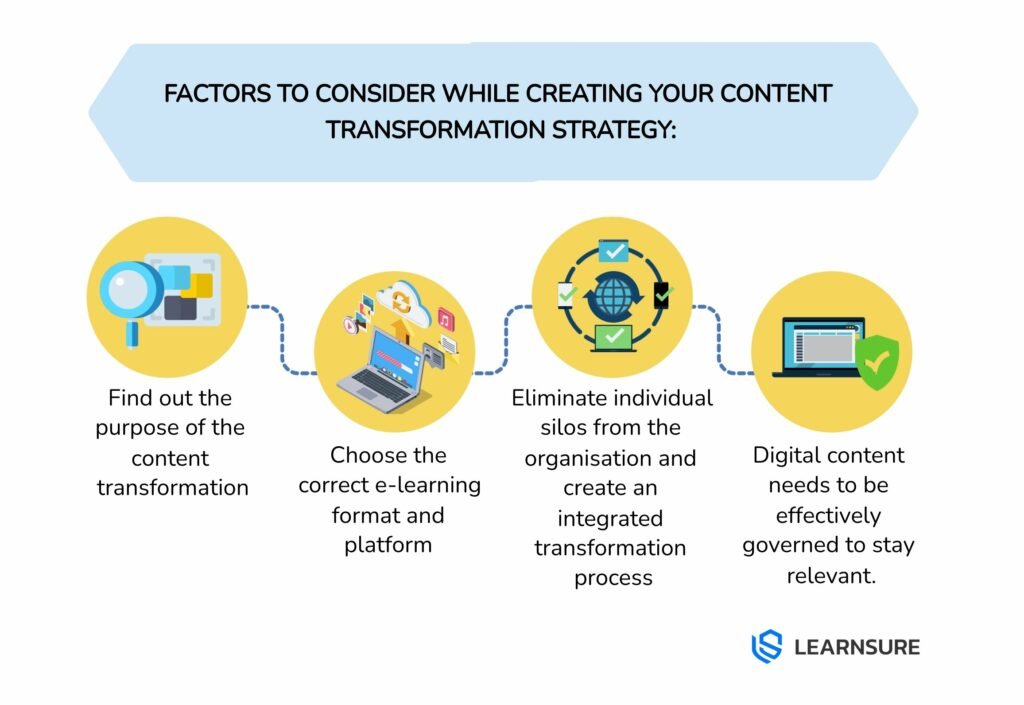 Factor No. 1 – The Need You're Serving
Digitizing any aspect of your business means little if the process doesn't serve an existing or emerging need. Approximately 70% of organizations fail in their digital transformation efforts principally because they've failed to consider the need that their efforts serve.
As such, you need to understand exactly what you aim to achieve with content transformation before engaging in it. Will your digitized content help you to serve your customers better? Are you going to use content digitization to create more effective mobile learning or interactive learning solutions?
Why are you transforming your content in the first place?
Answer this critical question and you can begin to build a cohesive strategy around the purpose you've determined.
Factor No. 2 – Choosing the Right Formats and Platforms
Once you've established why you need to transform elements of your content, you must consider the formats and platforms you'll use in the process.
For example, a web-based training program may need to provide access to reference sheets, worksheets, editable tests, and similar documents. Each may require a different form of digitization. A reference sheet could be offered as a downloadable PDF, while an interactive test may require coding so it can be completed within the web browser. You may also wish to offer a library of resources to the people you're training, which could require the development of a more intensive LMS or LXP.
The point is that knowing why you're transforming content is not enough if you don't understand the best way to deliver that digitized content to its intended audience.
Factor No. 3 – The Silo Issue
A large company typically has several departments within it. Each of these departments creates its content, often separated from other departments and with the intent to serve a single department's needs. Unfortunately, this leads to a situation in which valuable content gets stuck in silos, with other departments being unable to access it or perhaps even unaware of its existence.
Breaking down these silos to create an integrated content transformation process is integral to the success of your strategy. It's only when key content is shared throughout your company that you have all of the resources needed to complete a digitization project.
Factor No. 4 – Content Governance
Transforming your content into a digital format is only the first step. One of the most significant benefits of content digitization is that it provides you with the means to more easily edit and adapt content over time. In other words, your digital content needs to be effectively governed to stay relevant.
As such, a good content strategy assigns roles to individuals who are responsible for creating, editing, retrieving, tagging, updating, and reviewing content. Failure to govern your content may lead to it becoming outdated, which can create legal and compliance issues, in addition to making your training solutions less effective.
Content Transformation Isn't Easy
Unfortunately, a content digitization strategy is not as simple as choosing content to scan into a computerized system. If you do not have a suitable content strategy in place, you risk wasting time and money on a transformation process that does not serve anybody and, ultimately, becomes one of the 70% of digital transformation projects that fail.
To ensure this doesn't happen, you must understand the purpose behind your transformation efforts and how you'll present the digitized content to its intended audience. You must also break down silos, thus ensuring you have access to all relevant content while considering how you will govern your digital content and the platforms it's placed on once they're established.