Streamline your training solutions with responsive content
Employee skill development that rests on traditional classroom methods has become obsolete due to the popularity of e-learning. Many learners find outdated approaches tedious since they force them to sit in classrooms for hours on end and listen to bland lectures. Consequently, learning engagement is nearly non-existent, which is why employees are after a modern corporate training experience.
This is exactly what e-learning brings to the table. It allows your team to adopt new skills wherever and whenever by participating in highly relevant courses. Your company can thus keep up with the ongoing digital transformation and adapt to the changing workplace.
However, setting up effective sessions requires you to fulfil certain conditions. One of them is ensuring responsive content, especially if you're running a banking, finance, or insurance firm. You're about to find out why it matters and when you should apply it to your sector.
What Is Responsive E-Learning Content?
First-generation mobile learning platforms were only mobile-friendly – they did work on multiple devices but had a fixed or adaptive layout. Nowadays, responsive e-learning solutions adapt to your device's viewable area to create an ideal view and seamless training experience. Learning interactions are also optimized, offering higher engagement.
To illustrate a responsive design, consider your typical four-column layout and how it rearranges according to the display size. It's easy to read the layout on large monitors but a lot harder on a smartphone. This is where responsive content comes into play – it adapts automatically on phones to a single column.
With such user-friendly properties, responsive e-learning helps employees accomplish necessary goals more easily. Whether they're taking your course on a phone, tablet, laptop, or desktop computer, all the resources are accessible and presented clearly.
What is more, responsive content ensures your team doesn't have to squint or zoom on certain segments. All they need to do is start the LXP (Learning Experience Platform) on their device and focus on the task at hand without experiencing fatigue or eye strain.
What Are the Benefits of Responsive E-Learning Content?
Here's how responsive e-learning content can help boost your corporate training initiatives:
1. It reduces development costs
In all likelihood, your company uses a variety of devices to facilitate employee training and development. You could come up with several versions of the same e-learning platform to suit the devices. However, you could also create a responsive course that automatically adapts to various screen resolutions and sizes.
The latter method is incomparably better. When you design just one course for a number of devices, you'll both be cutting costs and saving a lot of money.
2. Future-Ready content
Your training staff is in charge of getting your courses up-to-date with the latest changes in your business environment. For instance, if you're running a product training session, you'll probably need to update the platform to include the item's latest version. You'll also need to keep track of the changing regulations, which necessitates adequate compliance training in the banking, finance, and insurance sectors.
Without a responsive layout, updating your online training programs would be incredibly challenging. On the other hand, responsive content is user-friendly and lets you seamlessly integrate updates.
3. Single Distribution Point
The main duties of your learning platform are to create, track, and distribute online training content. When you have just one version that functions properly on multiple devices, distributing the course is a breeze. Your employees can complete some sections on their laptops and wrap up the remaining segments using their smartphones. Even when they switch between different devices, the completion is effectively tracked since the platform follows a responsive layout.
Such course designs allow your team to choose how they wish to complete their training. Although implementing responsive courses may take some time, it's one of the wisest investments you can make in the corporate world.
How Does Implementing Responsive E-Learning Content Work?
Designing responsive content varies by organization. Nearly every company requires something different, but here's what most e-learning initiatives have in common:
1. Piloting the system
When rolling out a responsive design for the first time, there's usually a user group that tests the product in the early stages. This provides valuable feedback for the later phases and confirms whether the platform is the solution your employees seek.
2. Upscaling
The design starts with the smallest devices (smartphones) and is later transferred to other, larger platforms. Validating the feasibility of content on phones is paramount, especially in portrait mode. With the foundation in place, optimal viewing on multiple devices will be much easier to accomplish.
3. Optimization
A large part of developing a responsive platform is making various customizations. They enable you to offer an excellent training experience using several viewable areas. For example, some of the most common configurations include:
Providing must have-content: You should first ensure that your smartphones have all the crucial content from the get-go. You can then make some room for experimenting and start layering related information.
Optimizing file sizes: Having the right file sizes is crucial to eliminating the loading factor. Smartphone users, in particular, won't be fond of waiting for their course to load. If there's improper optimization, the easiest solution is to find alternate smartphone imagery.
4. Using Different Formats
The content that works on smartphones may not look as appealing on a different device. That's why various formats are used to provide an equally good experience across all platforms.
5. No Cumbersome Features
All assets on your devices must be conducive to productive work. For instance, all the buttons on your laptops must be of appropriate size. Otherwise, your employees may find the method cumbersome. In turn, their interest and engagement are bound to plummet.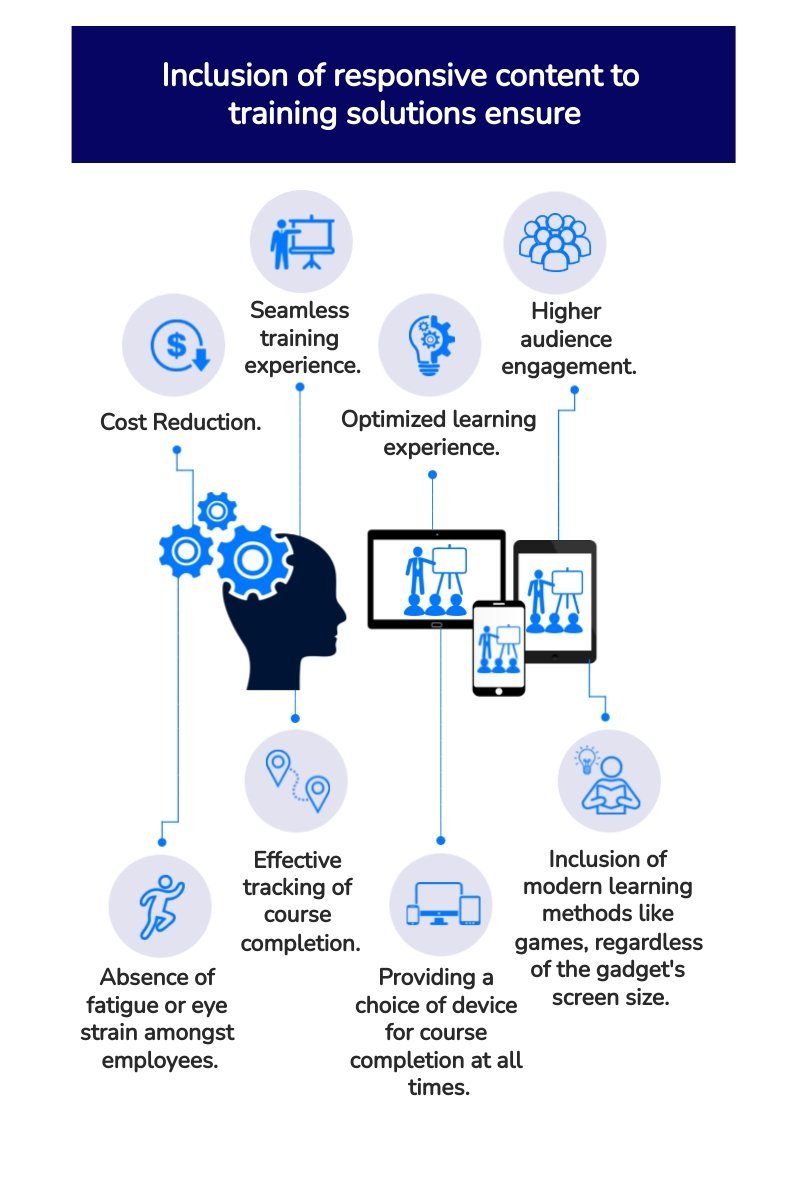 Streamline Your Training Solutions
Responsive e-learning content is a perfect match for any corporate environment. Not only does it help you reduce costs, but it also allows you to easily apply design thinking, behaviourism, microlearning, and other advantageous practices. With such diverse corporate training, your workforce will be fully prepared for future challenges.
To find out how to apply responsive e-learning in your organization, contact Learnsure. We'll come up with a tailor-made solution that will fit your environment perfectly.