Reaping the benefits of digital bancassurance
Bancassurance has been around for about 40 years, providing an effective channel for selling insurance products through banks. However, clients have now mostly switched to digital services. Banking and insurance organizations thus need to respond to the change and enhance their offerings. The customer need for a digitalized experience will only be heightened, which is why digitalisation in bancassurance gains importance.
Refining your partnership is key to ensuring you can adequately meet client demands. In this entry, we'll explain why bancassurance companies are better off with a digital approach and provide key tips on implementing it.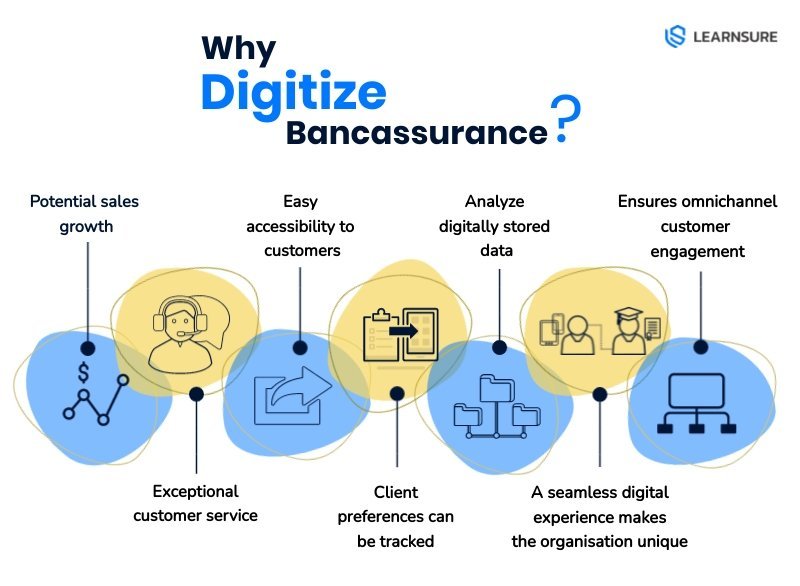 Why is the switch to digitalization highly recommended?
Transitioning from reliance on face-to-face interactions to digital services is practically inevitable. Banks and insurance companies that have completed the transition are seeing significant rates of growth.
According to a study by McKinsey & Company, digitization has driven development in many bancassurance organizations. Businesses that have digitalized non-life product sales have seen a growth of nearly 20%.
On the other side of the aisle, institutions that haven't moved their operations to the digital realm have experienced stagnating rates. This means that customers appreciate and expect a digital bancassurance experience, not an outdated model.
That said, companies have seen many obstacles on their way toward digitalization. Competing banking products and intricate sales processes are some of the main culprits.
Nevertheless, the potential for growth with digital bancassurance sales is too great to be missed. More than three out of four Americans prefer a digitalized portfolio, providing a large customer base where you can sell your products. All you need is the right strategy, and you're about to find out what it looks like.
What are the key ingredients of the digital approach?
The ongoing digital transformation has significantly altered business models in bancassurance partnerships. Consequently, the sector has been heavily affected, and the COVID-19 pandemic has only amplified the effect.
Fewer customers are visiting brick-and-mortar banks, but they still want the ability to interact with competent bankers.
A lot of businesses have paved the way for other bancassurance companies to succeed. There are three main elements you should focus on:
Steering sales in a digital direction
Improving conversion and customer experience requires you to completely revamp your sales channel. It should feature clarity and automation to eliminate the need for manual underwriting. One of the first steps is to pre-fill your applications with customer data to facilitate simplification and encourage clients to purchase with just one click.
If the transition turns out especially successful, you can reduce the time necessary to sell certain products to a couple of minutes. This usually involves a two-stage process:
Automatic retrieval of client information from the database and pre-populating necessary forms
Robust sales pitch and answering queries
Applying some of these changes can be daunting, but the following four principles can help guide you on your way to a digitalized experience:
Adapting to new customer contexts – Innovate your digital strategies to facilitate operations and ensure greater accessibility to customers at home.
Focusing on care – Reach out to your clients and focus mainly on support instead of immediate sales. Prioritize fostering a strong community that includes employees and customers. Also, uphold the broader mission to protect customers.
Planning for the post-COVID-19 world – Understand that economic hardship impacts client needs and migrates them to a digital channel, increasing satisfaction and saving money. Furthermore, redesign your branch services and processes to make them more efficient.
Be flexible – Employ social media for insight, obtain feedback from your staff, and keep track of customer habits to pick up signals of change.
Boosting personalization
Digital bancassurance channels enjoy a tremendous advantage. They can check out their clients' preferences to determine how they're spending their money. The data allows the company to analyze the information and provide personalized offers to customers.
For instance, you can pay attention to various event triggers, such as maternity hospitalizations, changes of address, or jewelry purchases. These indicators can help your insurance agents anticipate their clients' next move and meet their needs accordingly.
You can also leverage contextual information to reach out through messages or the internet to your clients. For example, you could offer your customers travel insurance once you've picked up card transactions at a distant location.
Personalization also consists of different pricing whenever possible. Depending on risk analyses, differentiated price schemes allow for competitive products and incentivize the client to buy.
One of the best ways to target clients from less risky categories is to include credit card scores. Using optimized quotes can lead to a 30% increase in conversion rates.
Ensuring omnichannel client engagement
Another large part of sales development is leveraging an omnichannel approach. The primary actions here include enabling insurance sales through mobile apps, public sites, and secure sites. Pay special attention to public sites since they can generate as much as 50% of all your sales opportunities.
Combined with reliable call-center support, these media are perfect for offerings marketed to clients from high-income groups. They demand personalized interactions and seamless experiences for any products they're looking to buy.
Your organization should also have the capacity to render, store, and retrieve client quotations across all channels. This is critical to avoiding delays and frustrations associated with manual data entry.
Additionally, don't neglect your physical channels. Although clients expect to carry out most of the work online, they should have the option to complete their applications by visiting your branch. A holistic and proactive customer engagement ensures that digital and physical channels work together. The process should pass seamlessly from the very moment your customers express interest all the way to policy issuance.
Bright days are ahead
Customer habits have changed drastically, posing many challenges to bancassurance channels. Luckily, digitalization can help you overcome them. It offers ample opportunities for increasing sales, so make sure not to miss out on them.
Going digital requires significant adjustments in many areas, including corporate training. To ensure your workforce stays up-to-date with modern trends from the BFSI sector, integrate with Learnsure Ai. Our polished platform has all the features of a streamlined LXP (Learning Experience Platform). It provides an optimal microlearning setting and clues your employees in on key principles, such as behaviourism and design thinking.
Learnsure Ai is the perfect match for your company, so book a demo now!