The concept of service quality emphasises customer satisfaction as its primary objective. Customer satisfaction is achieved through meeting customer expectations. Ideally, it's by exceeding the customer's expectations. The term Service Quality Concept states what you and the insurance company are striving for when dealing with your customers. In order to understand the topic of service quality let us begin with SERVQUAL.
What is SERVQUAL?
SERVQUAL can be defined as a measure of service quality. The SERVQUAL model is referenced in many services marketing studies, usually when discussing customer satisfaction and service quality. It is the measure of comparison between the service expected by a customer and the service delivered by the company.
In 1988 three professors from Texas A & M University wrote a ground-breaking paper that changed how many companies around the world operate. The concept they invented is known as SERVQUAL and it looks at perceived service quality.
Perceived Service Quality is the difference between perceived service and expected service.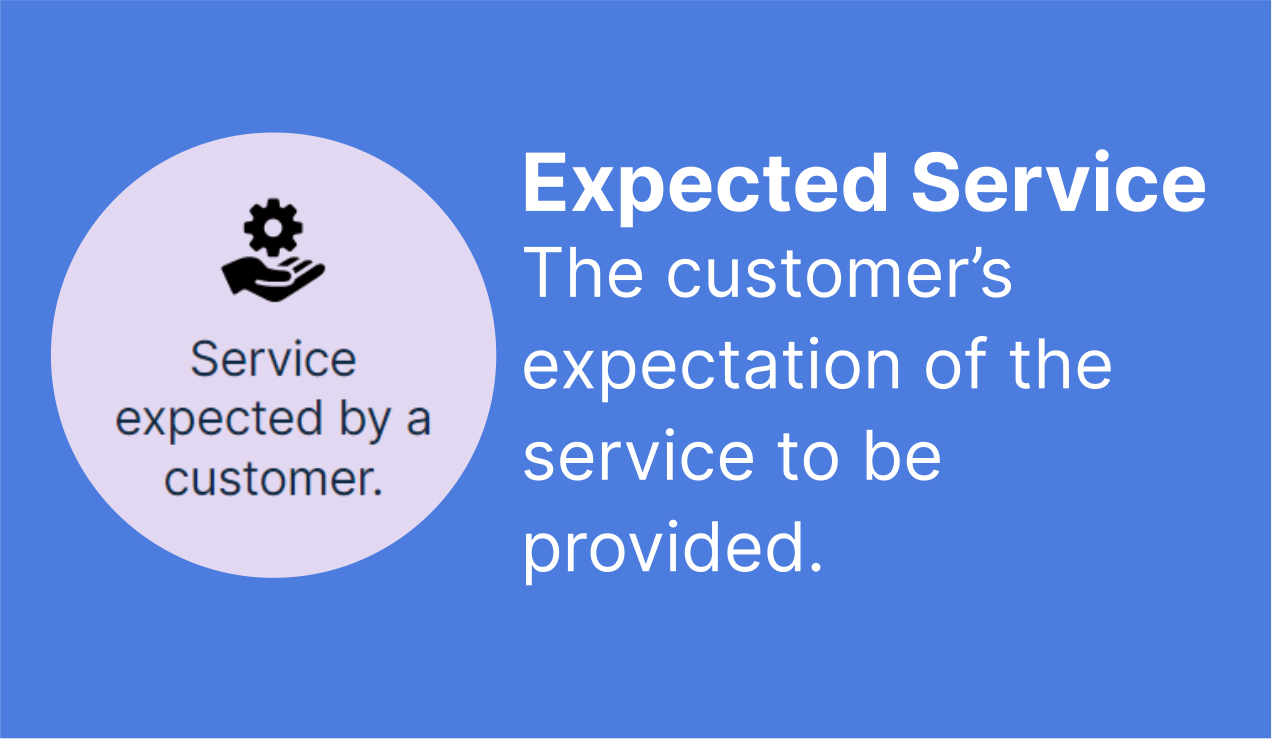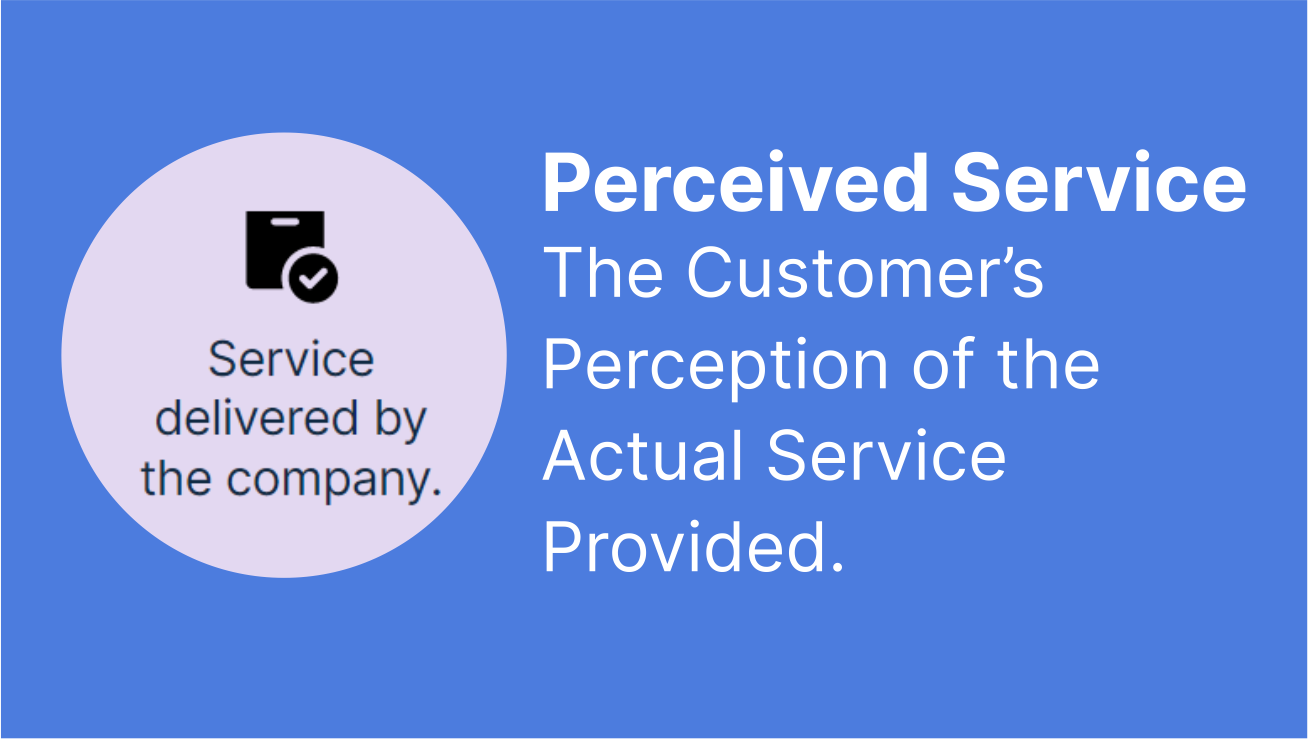 So we can say that perceived Service Quality is the difference between what the customer expected to experience and what they felt they experienced. For example, a customer orders a red dress from a shopping website, but at the time of delivery, the customer receives a blue dress. Obviously, the customer's perceived dress does not match his or her expectations. The gap between the expected dress and perceived dress is large and the perceived quality of service is small.
SERVQUAL measures the service quality of a company on the basis of the five dimensions. Let's look at these 5 dimensions in depth: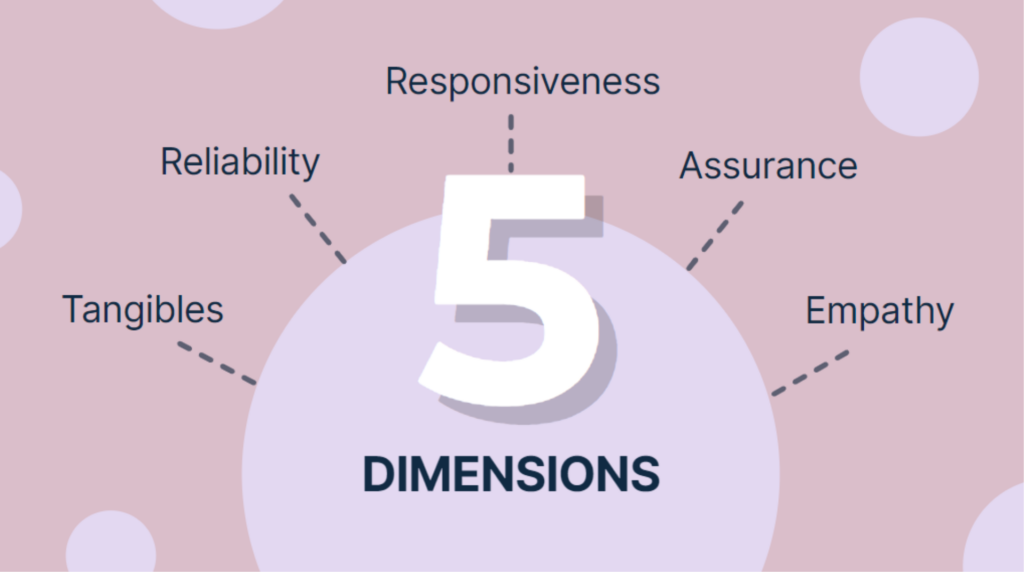 1. Tangibles

Tangibles are the things the customer can see and touch. Hence the quality of the products and services that can be felt, seen, heard and perceived should be excellent. So how to make sure that your tangible products being delivered are of rich quality? Take care of the following aspects to ensure good quality of tangible products:
Visually appealing facilities
Banks ensure that their branches are welcoming and attract your eye.
Employees with a neat and professional appearance
Banks have their employees wear uniforms to ensure that they are professional in appearance.
Modern equipment
Banks continually update their equipment to keep up with technological advances. For example, introducing net banking and cardless ATMs.
Visually appealing material associated with the service.
For banks, this includes their sales literature telling you about the different accounts they offer, your monthly bank statement and your ATM card.
For you, as a professional Financial Advisor, the sales literature and sales aids that you use must be of good quality and easy to understand.
2. Reliability
This can be defined as the ability to perform the promised service dependably and accurately. It means performing the service right the first time. It also means honouring promises, as well as, performing the service at the designated time and keeping records correctly.
How to ensure that you provide reliable service:
Provide service as promised

Perform services right the first time

Provide services at the promised time

Do not ignore complaints, always handle customers' service problems quickly and efficiently

Maintain accurate records
3. Responsiveness
Responsiveness can be defined as the willingness to help customers and provide prompt service.
Follow the below-mentioned tips to become a responsive advisor:
Keep customers informed as to when services will be performed
Under responsiveness, we need to let the customers know we are doing this. For example, when a customer completes a life assurance application form you need to let him know what will happen when the application form goes to head office and what the likely timescales are.

Give prompt service to customers
When someone requests information about the different bank accounts on offer, the information pack should be mailed immediately. As a professional advisor you should also book appointments promptly.

Be willing to help customers
Help customers by being open to questions, about your products or financial questions in general.

Be ready to respond quickly to customers' requests.
This point is about being ready to respond. You need to be prepared for customer requests by keeping your knowledge current so that you can respond to queries quickly.
4. Assurance
Assurance is the knowledge and courtesy of individuals and their ability to convey trust and confidence.
Follow the steps to assure your customers that you will deliver quality service:
Instil confidence in customers.
Make customers feel safe in their transactions.
Have the customers' best interest at heart.
Be consistently polite and honest.
Show respect for the customer throughout your interactions.
Demonstrate your skills and knowledge to gain credibility.
5. Empathy
Empathy is all about the care and individualised attention the company provides its customers which enhances the service experience.
Wondering how to be more empathetic? Follow the tips and tricks below:
Give customers individual attention.
Keep customers informed in terms they can understand.
Understand the customer's needs.
Deal with customers in a caring fashion.
Be approachable and easy to contact.
So these were the five dimensions of SERVQUAL and how to demonstrate quality in each of them.
Determining how effective you are at delivering high-quality service depends on how well you implement the above-mentioned approach as well as how you measure the response you're getting while implementing the five most important dimensions of customer service. This will set you on a path to making the most effective improvements to increase customer loyalty and satisfaction.